Changers & Balancers for Motorcycle Tires
Motorcycle tires are unique in that they are typically smaller and much narrower than typically auto tires. This also goes for ATVs and other specialty vehicle tires. Despite the different in size all basic tire/wheel operations are still completed on motorcycle version including, changing, balancing, aligning truing and of course shredding. It should be noted though that alignment and truing (shaving) motorcycle tires are much different than that of regular automobile rubber.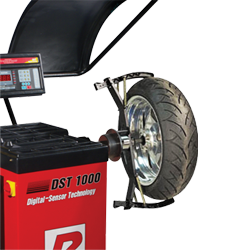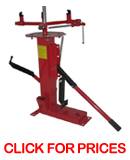 Because bike tires are often many different sizes than car tires, specialty equipment is used for mounting and balancing. These units are often slightly cheaper than full size balancers or changers and are made by the same top brands such as Coats with a couple unique brands including No-Mar. Like regular tire changes are balancers, manual version can be found at stores such as Harbor Freight and Amazon like the one on the right.
Used Motorcycle Tire Changers
It is much more common to find used manual motorcycle tire changers on the market. This is due to the need for quick tire swapping and convenience of storage/transport due to smaller size of unit. It is likely you will find one of these and a couple spare tires in a toy hauler with dirt bikes and ATVs. Finding these in good to new condition on Craigslist or eBay cheap is a good bet.