Tire/Wheel Balancers - Three Methods Review
The other popular tire machine that can be found in all specialty tire shops is the automatic tire balancer. Like the tire changer, tire/wheel balancing machines can in both automatic and manual versions.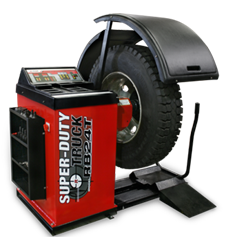 Manual Tire Balancing (Static Balancer)
This traditional method of tire balancing is rarely used in professional shops anymore however can still be used effectively in home for a fairly accurate adjustment. This involves using what is called a "bubble balancer" which is stationary piece of equipment that the tire/wheel rests on perpendicular to and parallel with the ground.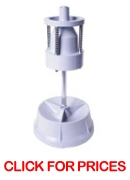 There is a cone or bubble bullseye on top of the device that during balance rests center to a measuring line. When the wheel and properly inflated tire is placed on the device, the center bubble marker will move to one side or the other indicating the imbalance. Weights can then be applied to correct and re-center the cone. See the video below for an in-home demonstration of this type of tire balancer in action. Click on the icon to the right to purchase one a similar device on Amazon for under $100.
JC Whitney Garage Pro Bubble Balancer Demonstration
Automatic Tire Balancing
There are two types of high end tire/wheel balancing machines used in contemporary auto repair, specialty and customs shops today; Dynamic On-The-Car or High Speed Spin Balancing.
On-The-Car Machines While this method can be quit dangerous it is the most accurate because it accounts for issues unique to the car such as off center lug pattern. This method is common with classic cars and racing technicians. These machines vary however typically work by placing a motor with a wheel against the tire causing it to spin. A hat or other mechanism is placed on the wheel which provides readouts back the machine directing the technician where they should place weights on the wheel to balance the tire. The goal here is to reduce vibrations. See the video below for a demonstration of a Dynamic On-the-Car- Spin Balancing Machine.
Technician Balances Tire While on Car
High-Speed Balancing Machines These are the most common tire balancing machines in professional shops today. They compare to high end tire changing machines in both size and price. The tire is placed on a spindle shaft using cups to center the hub. A locking cap keeps the wheel in place while it rests perpendicular to the ground. The tire is then spun up against a device that helps determine readouts. The machine does most of the work after inputting rim width, diameter and offset. This includes detection in unbalance areas and directing where to place weights along with the amount. See a very in-depth video below that shows how to use one of these machines.
MSCTC Training Video for Hunter 9700 Road Force Balancer
Used Tire Balancers:
Like Tire Changers, the manual balancers are fairly straightforward then purchasing in used condition. When it comes to Dynamic automatic tire changers they are much more complicated especially because the sensory equipment must be intact in order for the machine to properly balance the tire/wheel assembly. Be sure to consult with a professional before purchasing one of these types of machines used.