Tire Changer Overview
The most common piece of machinery associated with tire machines is the tire changer. A tire changer is a device used in the mounting, removal, fitting and with some models inflation of the tire. Tire changers can vary from large robust machines found in tire specialty stores such as Discount/America's Tire or at home manual changers.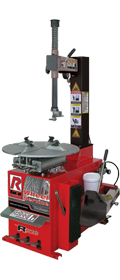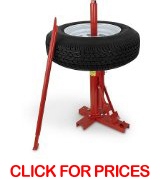 High end Coats or Hunter Engineering pneumatic changers can range from several thousand to much more for heavy duty tires made for commercial grade vehicle such as tractors. Conversely, manual tire changes can be less than $50 such as the Tire Changer by Powerlift pictured to the left available on Amazon. It is worth noting that many lower end inexpensive tire changers are designed for smaller tires used on motorcycles and all-terrain vehicles (ATV).
Listed below are the major components you will find in a higher end automatic tire changer and the base functions they perform:
Table Top (holds tire/wheel)
Rim Clamps X 4 (hold wheel for tire removal/installation)
Clamp Control Pedal (opens/closes rim clamps)
Table Top Pedal (spins table top for install, uninstall or fitting)
Duckhead (mounts/demounts the tire from wheel)
Swing Arm (moves Duckhead)
Vertical Slide (adjusts height of Duckhead)
Bead Loosener Shoe (releases the tire bead from rim of the wheel)
Bead Breaker Arm (moves Bead Loosener Shoe)
Air Pressure System (consists of hose, gauge, pedal and manual pressure bleed for filling the tire with air)
Removing & Mounting a Tire
Listed below are the basic steps in removing and mounting a tire using a tire changer. This assumes that the user has already removed the tires/wheels from the vehicle and let the air out of the tires.
Removing:
Remove valve stem
Use bead breaker on both sides of the tire
Adjust rim clamps for wheel
Mount wheel on table top
Utilize duckhead, control arm and pedals to rotate tire off of wheel
Mounting:
Lube tire on both dies where it makes contact with rim
Position tire so bead passes below the front section of the mounting head
Press tire down into the wheel rim (duckhead will force tire under lip of rim)
Attach inflation hose on valve stem without valve core
Inflate tire while ensuring both beads remain on rim
Remove wheel from clamps and install valve stem
For more detailed information there are several good articles on eHow.com about Tire Changers including how to use and repair them. For a more "hands on" view, check out some of the videos on YouTube including the two below.
Demonstration of Automatic Rim Clamp Tire Changer
In-home use of tire changer from Harbor Freight
Used Tire Changers:
A few things to remember about buying used tire changers on eBay, Craigslist or other classifieds site are as follows. The more complicated or pricey the machine the more due diligence should be conducted before purchasing. There are very few things that can go wrong with the manual changers so all that you need to look for is wear.
Conversely, the pneumatic changes can have problems with the various pedals and mechanisms along with the air pressure systems. It is also very important to check for wear on the duckhead, bead breaker and other places that come in contact with the wheel. This is important to ensure the machine will not damage the rim during tire removal or installation.